school visits
.......................
Presentations
*
What Works Best
*
Program Length
*
Equipment
*
Book Sales
*
What Kids + Teachers Say
*
Kids Events
*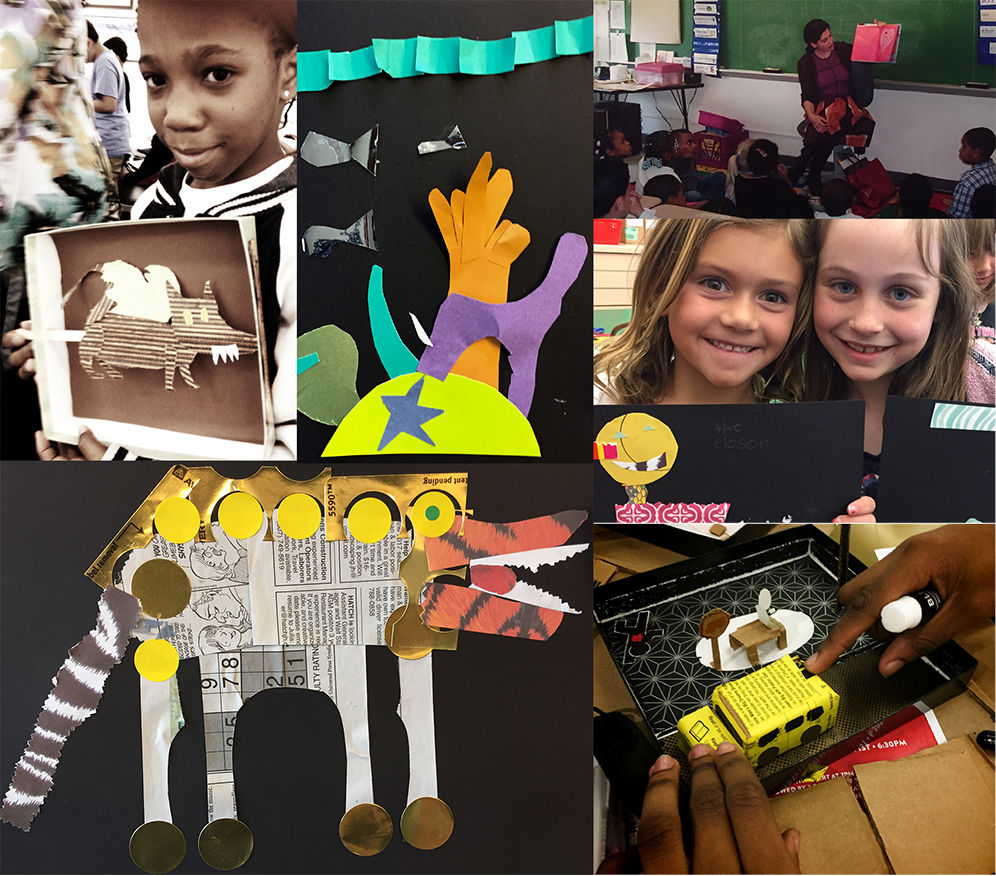 school visits
I would love to come visit your schools and libraries to work with your students! Here are some details
about my visits. Please contact me with any questions that you have and to arrange a visit.
presentation content
During a presentation I typically show artwork that I made when I was a kid, I talk about my books [often
focussing on one in detail], and discuss story telling [both visual and written]. I will read from my recent books, describe and show my working process, including showing dummy books and early drafts. I leave a lot of time for questions as this is often a great starting point for rich discussions. The best visits are lively and interactive and fun! Note, I also love doing art workshops! And international school visits!
what works best
My presentations are great for elementary aged kids, but I am happy to talk with any grade level, including college students and adults. I adapt the presentation for the groups that I am working with, simplifying the talk for younger grades and going more in depth about my process of making a book with older audiences. I am also happy to do an art project related to my work. I prefer to present in a library or classroom. I find the kids really benefit from an intimate setting in which there is more possibility for interaction. I also find that the discussions are best and most engaging for the kids when they have had a chance to read and discuss my books ahead of time and when they have time to think of questions in advance. The more prepared they are, the better it is! I ask that a teacher remains with the class during a presentation. I am happy to provide schools with suggested activities that relate to my books.
program length
My presentations run between 45 minutes to one hour, including Q & A at the end. I usually shorten it to 1/2 hour for pre-K and K kids. I can give up to 3 presentations in a day.
equipment
I use a power point presentation and have a Macintosh laptop. I will need you to provide a projector and a tech-saavy person to ensure smooth set ups. It is always a good idea to allow time in advance to set up and make sure that everything is working well.
book sales
If you would like to sell books, you can buy them through my publishers. I am happy to sign books if you schedule a time for me to do so.
what kids + teachers say:
"Carin is a generous, encouraging, thoughtful and motivating teacher. She expertly designs workshops and presentations according to her audiences, no matter what age or art background. We can't wait to work with her again soon!"
– aliza boyer Director of Education and Public Programs, Museum of American Illustration, Society of Illustrators
"During her magical visit, Carin Berger shared her lovely wit, skills and intelligence with my Art students. Although the cornerstone of her teaching was her own stunning background and abilities, each young artist felt the encounter was all about their own art, story or practice. Carin's wealth of caring and deep understanding of the human experience brought a richness into the lives of students and teachers. I truly hope to work with Carin again!"
– gregory unger, Head Art Teacher, Singapore American School
"Carin...did 3 knock-out presentations in a row, calibrating each with such humor and warmth and flashes of genius that all five grades were captivated. She brings something new and thrilling for every kind of student. Just dazzling!"
– brenda shaughnessy, Author Visit Committee, Forest Avenue Elementary School, NJ
video:
what kids say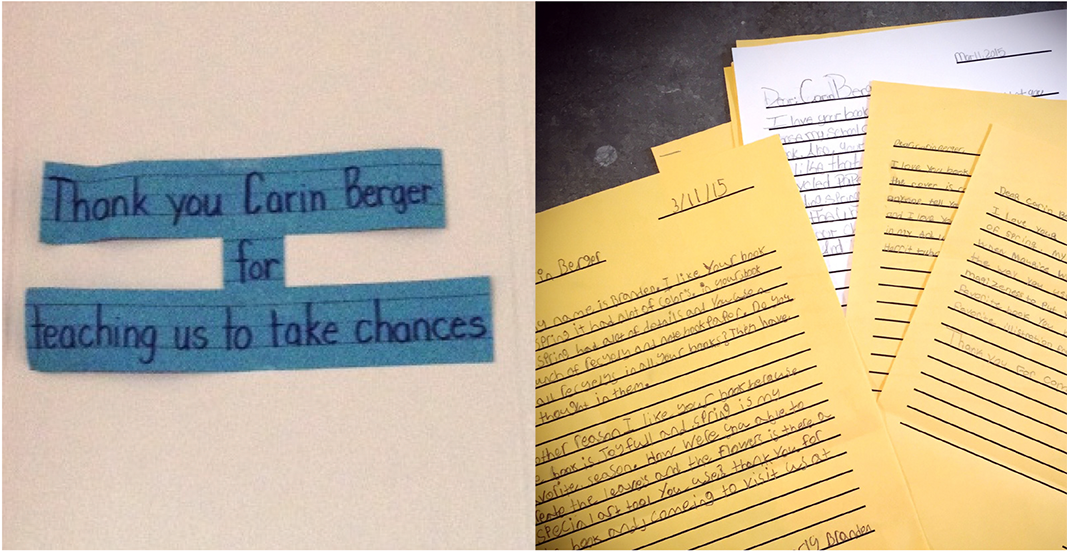 kids events [selected]
Visiting Artist, Museum of Wildlife Art, Jackson Hole, Wyoming, 2017
Visiting Artist, The Singapore American School, Singapore, 2016
Creative Workshop, Shadow Puppet Workshop, Brooklyn Public Library, 2015
Visiting Author, Chappaqua Children's Book Festival, 2014, 2015
Creative Workshop, Savannah Children's Book Festival, 2014
Creative Workshop, Diorama-rama!, Poets House, 2013
Visiting Author, Meet the Author, Brooklyn Public Library, 2012
Creative Workshop, Special Storytime and Collage Workshop,The Eric Carle Museum of Picture Book Art, 2012
Creative Workshop, Forever Friends Collage Workshop, Poets House, 2011